Sendsport.net is a sports library offering foreign books on different sports: football, speedway, volleyball, athletics, hockey, Olympic Games. Most of our product range are substantial and unique publications about football from around the world: monographs of football clubs, football history in many countries playerslexicons, books about the fans, media, football yearbooks, and much, much more.
European Championship 2012: The Chronicle (Limited edition) - New book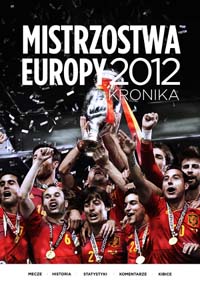 Euro 2012 was a genuine celebration of football not only for the fans from Poland or Ukraine, but also from all over the world. Everyone was satisfied with the excellent organization and positively surprised by the joyful atmosphere that prevailed during the tournament. 
The stadiums though, gave all the funs an opportunity to experience extreme emotions caused by unexpected results. The final tournament of Euro 2012 was crowned by more goal scores than ever before. 
Let's recapitulate this unique championship. European Championship 2012: The Chronicle is a beautiful album that contains stunning photos of footballers and fans, description and documentation of all the matches played during Euro 2012, a tremendous amount of statistics, group photograph of the winning Spanish National team, short history of the championship, and much more. 
It is a must read for all football fans! It is the only book on the Polish market that summarizes the final Euro tournament.
The opening of the Sendsport.net webpage - international sports fans bookstore – Info

Dear customers,
Since the beginning of Sendsport.pl, we have always dreamt about creating the ultimate place where people with passion for football: experts, sports historians, journalists and football fans alike, will meet and find the resources they need.

After several months of hard work here it is. We are excited to present our new webpage: Sendsport.net.

We have already gathered over 300 amazing sports books in Polish, English, German, Spanish, Russian and Italian. And we don't want to stop! You will soon have the opportunity to browse through over one thousand titles from all over the world.

To make the shopping easier, our webpage is now fully available in English and Polish and partially in German. We are planning to introduce a Spanish-language version soon.

We want to create the international community of sports books fans. Become a fan of our bookstore on Facebook and be the first to know about our new books, participate in competitions and discuss, discuss the present condition of football and its history, find friends from all over the world who share your passion for sports!

Visit our webpage regularly and follow our updates. Let us know what you think! Write to: info@sendsport.pl